The Bank of Ghana has introduced GHC100 and GHC200 notes.
This means the current highest note in the country GHC50 will cease to enjoy that relevance.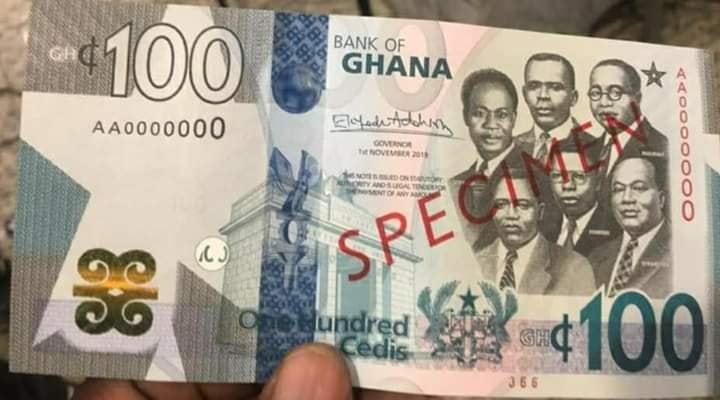 It is unclear when the new notes will be let in circulation.
A GHC2 coin has also been introduced.
Briefing the media on the move, the governor of the Central bank said: " Today, in line with the results of the exercise, the Bank of Ghana is introducing a new GH¢2 coin, and GH¢100 and GH¢200 banknotes denominations into circulation to complement the existing series to ensure customer convenience and bring about efficiency in the printing of currency to generate savings for the country.
"These new higher value denominations will only restore partially the dollar value of the higher denomination GH¢200 to about US$40, not quite close to levels in 2007, but high enough to significantly reduce the deadweight burden and high transaction cost in making high-value purchases in a cash-based economy like Ghana. 7. Ladies and Gentlemen, the introduction of these high-value notes should not be misinterpreted to mean a shift away from the Central Banks policy of pursuing a cashless society and promoting the use of electronic modes of payments.
"While vigorously pursuing financial inclusion by accelerating the migration to e-payment platforms, we are also mindful of the relevance of cash in our day-to-day dealings. Undeniably, cash still remains the preferred medium of payment by the large informal sector in the country. This is why we continue to pay attention to enhancements in the structure, security features and management of cash within the economy. This will stay with us for some time".
In 2017, the bank denied it had plans to introduce new currencies.
Reacting to an article circulating on social media that quotes Dr Johnson Asiama, the Second Deputy Governor of the BoG as disclosing the impending unveiling of the new denominations, a statement issued by the Bank to said the story was false and should be disregarded.
It said: "The attention of the Bank of Ghana has been drawn to stories circulating on social media to the effect that the Bank is issuing denominations of GH¢30, GH¢100 and GH¢200, and wishes to categorically state that the stories are false and should be disregarded."
The statement, signed by Mr Bernard Otabil, the Communications Director of the BoG, maintained that the Deputy Governor, during the AB &David Crystal Ball Africa 2017, never mentioned any such issue.