Since Hamas launched its unprecedented offensive on Saturday, Israeli forces are still attempting to drive out the final pockets of militants hiding out in a number of communities.
Israel has commanded a "complete siege" of the Gaza Strip, which will leave the region without access to fuel, food, or electricity.
After Hamas launched a surprise onslaught from Gaza on Sunday, Israeli Defence Minister Yoav Gallant claimed that Israel was "battling beastly people" and acting like such.
Israel Katz, the country's minister of infrastructure, claimed to have given the immediate cutoff of the water supply between Israel and Gaza.
It happens after a "huge rocket barrage" from Gaza struck central Israel early on Monday.
Following Israel's formal declaration of war on the militant organisation, Israeli forces are currently engaged in combat with Hamas in two sites inside the country.
The Israeli military has called up about 300,000 reservists.
There is continuing active combat, according to Doron Spielman, a spokesman for the Israel Defence Forces (IDF), as terrorists from Hamas "constantly try to cross" the border from Gaza.
Despite the fact that Israeli forces have retaken control of various southern Israel regions, this continues.
"They keep stringing to the border and we expect this to continue because there's a massive number of jihadis that have been trained to do this," he stated to NBC.
Thousands have been injured on both sides, and about 1,200 people have died. Hundreds of Israelis, including women, children, and senior citizens, are being held prisoner by Hamas.
• According to Hamas, airstrikes during the weekend have killed Israeli hostages and their captors;
• In cities, on roads, and at a techno music festival taking place in the desert close to Gaza, Israeli civilians have been shot and killed;
• Rishi Sunak is the meeting's chairperson for the COBRA emergency reaction;
According to the UN, more than 123,000 people have been displaced in Gaza.
During Israel's "Swords of Iron" operation, which included airstrikes in retaliation, at least 700 people are said to have died in Israel and 560 in Gaza.
The armed wing of Hamas said on Monday that since the start of the offensive, attacks have resulted in the deaths of four Israeli hostages and their Hamas captors.
19 other individuals were also killed by an Israeli air strike, including women and children, according to Talat Barhoum, a physician at the nearby Al Najjar Hospital in Gaza.
The IDF had reported that more than 1,000 targets inside the Gaza Strip had been targeted, including airstrikes that largely destroyed the northeastern village of Beit Hanoun.
The IDF stated Monday that it anticipated the situation to be "in a better place."
According to Mr. Spielman, one Hamas militant emerged from cover and opened fire in one town, indicating that the group has "embedded themselves" in Israel.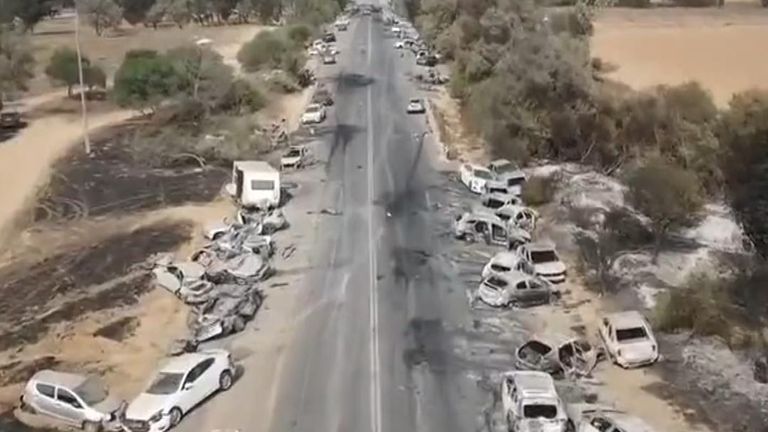 "There are potentially serious numbers of terrorists that are in hiding," he stated.
"We are battling an enemy that is more similar to ISIS than any other type of enemy that the world has encountered in many, many years."
Israel's potential ground invasion of Gaza, which in the past has resulted in higher losses, is still a key unanswered question.
In response to a question about it, Mr. Spielman stated: "I can tell you that we're carefully assessing the situation.
"We're going to need to take a deep breath, because this is going to take a significant period of time."
Our history's "darkest day"
A music festival with hundreds of attendees that was attacked had roughly 260 bodies retrieved by paramedics, according to the Israeli rescue service Zaka, although the death toll may increase.