A court in Malawi has halted work on a statue of Mahatma Gandhi after critics accused him of using racial slurs.
"Being black people ourselves, such remarks have invited a sense of loathing and detestation of Gandhi," the Gandhi Must Fall group said in its court application.
Judge Michael Tembo granted an injunction temporarily suspending work on the statue.
The effigy's construction was part of a $10m (£7.8m) building deal with India.
Under the agreement a convention centre named after Gandhi is being built in Blantyre, Malawi's commercial capital.
India's Vice-President Venkaiah Naidu had been scheduled to visit the country to inaugurate the centre and the statue, local outlet The Nation reports.
The high court said work on the statue should be paused until a further hearing – or a new court order.
What's the issue with Gandhi?
Gandhi is hailed as a hero of Indian independence, but his legacy in Africa – where he spent more than 20 years – is seen as more problematic.
More than 3,000 Malawians signed a petition against the statue, arguing that he had done nothing to benefit their country.
Two years ago, professors at the University of Ghana also called for a Gandhi statue on their campus to be removed, saying the non-violent resistance figure had a "racist identity".
They cited quotes from his writings, in which he described Africans as "savages or the Natives of Africa" and "kaffirs" (an insulting racial slur for a black African).
In 2015, a Gandhi statue in South Africa was vandalised by a man who painted it white.
Gandhi is not the only historic figure whose statues have drawn protests.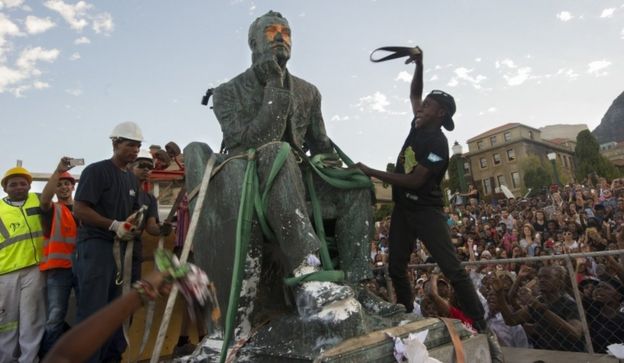 South Africa's University of Cape Town removed a statue of 19th Century British colonialist Cecil Rhodes after a student-led campaign.
Protesters there said the statue had "great symbolic power," and glorified someone who "exploited black labour and stole land from indigenous people".