The death toll in the wildfires raging through California has risen to 25, according to officials.
This comes after 14 more bodies were discovered in or near the decimated town of Paradise in the state's north, bringing the number of confirmed dead there to 23.
Two more people were killed in the south, near Malibu.
An estimated 250,000 people have been forced to flee their homes to avoid three major blazes in the state.
Meanwhile, President Donald Trump has drawn anger by saying that poor forestry management is to blame for the fires.
What are the main fires?
The Camp Fire began spreading through Butte County on Thursday, and firefighters were powerless to stop it destroying the town of Paradise.
Another fire swept into the affluent southern beach resort of Malibu on Friday and has now doubled in size.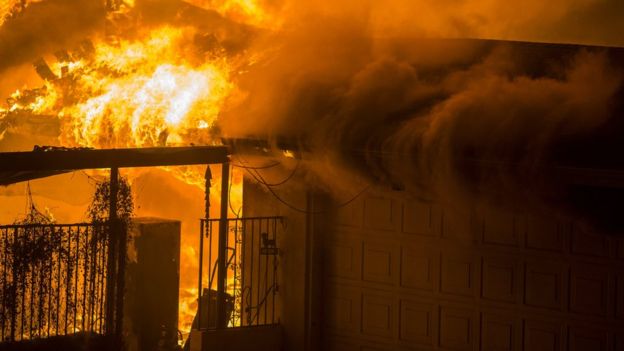 Many houses burnt down in Malibu
That fire, known as the Woolsey, now covers an area of 70,000 acres (28,000 hectares).
Among the towns under evacuation orders is Thousand Oaks, where a gunman killed 12 people in a rampage on Wednesday.
Meteorologists have warned that dangerous conditions may continue well into next week, but firefighters say they are hoping to take advantage of a temporary lull in the wind fanning the flames.
What is the latest on the Camp Fire?
At a news conference on Saturday, Butte County Sheriff Kory Honea said 10 of the additional victims were found in Paradise with four in the nearby Concow area.
Images from Paradise showed the sky filled with acrid smoke, almost blotting out the sun.
By Saturday, the Camp Fire had burned 100,000 acres (40,500 hectares) and was only 20% contained. Fire chiefs estimate it will take about three weeks to fully control the blaze.
The fire started in the Plumas National Forest, north of Sacramento, on Thursday and quickly engulfed the town of Paradise.
Residents fled for their lives as more than 6,700 homes and businesses were destroyed, making the fire the most destructive in the state's history. The flames moved so fast that some had to abandon their cars and escape the town on foot.
Fire officials have also issued evacuation notices for parts of Chico, a town of 93,000 people north of Sacramento.
Where is the Woolsey Fire?
The blaze started on Thursday near Thousand Oaks, about 40 miles (64km) north-west of central Los Angeles. Another blaze, the Hill Fire, started at about the same time, also near Thousand Oaks.
All residents have been ordered to evacuate.
Los Angeles County sheriff's Chief John Benedict said on Saturday that two people had been found dead but provided no details on the deaths.
Malibu and nearby Calabasas are home to many celebrities and some have been forced to flee, including Kim Kardashian West, Caitlyn Jenner, Lady Gaga and Guillermo Del Toro.
The actor Martin Sheen was briefly reported missing but he later said he was on Zuma Beach in Malibu, unharmed.
The fire has also reportedly destroyed one of the sets for the TV series Westworld and is threatening Malibu's Pepperdine University, a private residential college with more than 7,000 students.
Firefighters have not managed to build containment barriers around the fire.
What did Mr Trump say?
The president has previously blamed Californian officials for wildfires and threatened to withhold federal funding.
In a tweet on Saturday, he again accused state authorities of "gross mismanagement".
Evan Westrub, spokesman for state Governor Jerry Brown, hit back, called Mr Trump's comments "inane and uninformed".
"Our focus is on the Californians impacted by these fires and the first responders and firefighters working around the clock to save lives and property," he said.
Celebrities also criticised Mr Trump's unsympathetic reaction.
California-born singer Katy Perry called it an "absolutely heartless response", while singer-songwriter John Legend said Mr Trump "can't bring himself to show some empathy to Californians dealing with a horrific disaster".
There is a total of 16 fires currently active in California. Officials have put most of Northern California under a Red Flag Warning, which means "extreme fire behaviour" can occur within 24 hours.
The region has grappled with serious wildfires in recent years, including the worst in the state's history – the Mendocino fire in 2018.
Source: BBC