The news that Joseph Esso would not don the famous rainbow jersey of Hearts of Oak sparked a turmoil in the fan base of the Accra-based club.
Many believe the club should be keeping their key players if they are to stand any chance of ending an 11 year wait for a Ghana Premier League title.
In the last five years, Hearts have failed to extend the contracts of players such as Inusah Musah, Thomas Abbey, Isaac Mensah, Kwame Kizito, Leonard Tawiah and Samudeen Ibrahim have all left for free.
Esso is the latest victim but this time there was something different as his departure wasn't so straightforward.
The club had negotiated with the 23-year-old since last year but he failed to agree to their terms bringing his three year stay to an end.
Here are three reasons why Esso decided against extending his contract at Hearts.
The money factor
Hearts of Oak's major pull in the transfer market can't be trophies anymore and as a result, money has to play a big role in attracting players.
Between the three years Esso stayed with the 19-time Ghana Premier League champions, his value has risen astronomically as he was a key member of the Black Stars 'B' squad that won silver at the 2019 WAFU Cup staged in Senegal. The forward was also voted by Ghana Premier League fans as Hearts' most exciting player in the African Sports Centre for Data, Research and Technology's 2019 Ghana Premier League Report.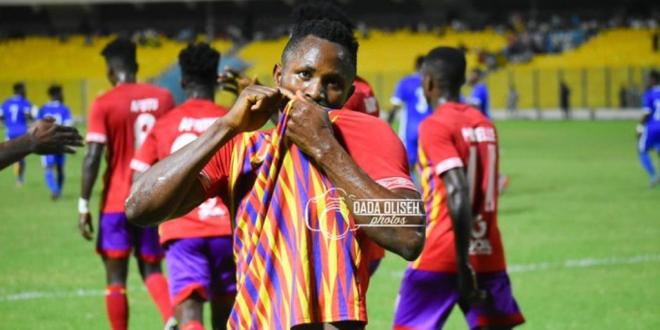 Clearly, Esso felt his stock as a player has risen over the years and needed to be duly rewarded. For months now, the club have been trying to negotiate a new deal with the former Ebusua Dwarfs forward.
It was reported that Esso was earning a salary of GH₵ 18,000 a year. During negotiations, Esso stood firm on his demand for GH₵ 50,000 as signing fee and GH₵54,000 as yearly salary, but Hearts of Oak on the other hand were only willing to offer GH₵ 30,000 as signing on fee and GH₵36,000 as yearly salary.
The disparity in valuation and the lack of compromise led to both parties splitting.
Contract length differences
The salary wasn't the only factor that Esso and Hearts failed to agree on. Another key issue was how long the player was going to extend for.
When Esso signed from Ebusua Dwarfs in 2017, he agreed on a three-year deal. The Phobians wanted to tie the player down to a multi-year contract aiming for two or more years.
However, at 23 years, Esso wanted his destiny in his own hands and was willing to extend by just a single year.
Hearts of Oak public relations officer (PRO) Kwame Opare Addo stated Esso's demands for the length of stay if his contract was to be renewed.
"Joseph Esso opted for only a one-year contract extension contrary to what Hearts were requesting for. His demands caused our decision to part ways with him," Addo told Sikka FM.
It's no doubt that the forward might be eyeing a big move at this point in his career, and committing his long-term future to Hearts could make it difficult for him to take the next step.
Esso has had his fair share when it comes to being a victim of the power play at Hearts. The club has blocked several moves for the striker with the latest being Al-Hilal who tried to sign Esso last year.
Whenever a player is under contract, it solely depends on whether the club wants to sell or not and that is the situation Esso doesn't 't want to see a repeat of.
Both parties once again failed to find a middle ground in terms of the length of stay for his new contract.
Esso is not a happy man
"I've seen it on their [Hearts of Oak] social media. I have nothing to talk about it." Esso narrating his reaction to being released by Hearts on OTEC FM, but in a rather gloomy tone.
Clearly, the player was not happy. He didn't mention why he remained coy but he was most likely following instructions from his management to remain cool.
Esso's frustrations arguably date back to when his reported move to Sudanese side Al-Hilal fell through. Both sides had agreed a fee $100,000 transfer deal but unfortunately the move wasn't completed as Hearts pulled out of the deal in the latter stages.
Hearts prevented the move because they wanted to keep Esso and sell him for more to a bigger club. Since then, Esso has been bent on increasing his salary exponentially. Ashgold and Kotoko have expressed interest and were willing to pay more than what the player was demanding. However, Hearts have stood in the way of all possible transfer moves.
The primary reason why Esso wasn't willing to sign an extension for more than one year.
Another year, same story as Hearts of Oak fail to keep another key player. The question on the lips of fans is "for how long will this go on?"